1:1 Technology Integration Program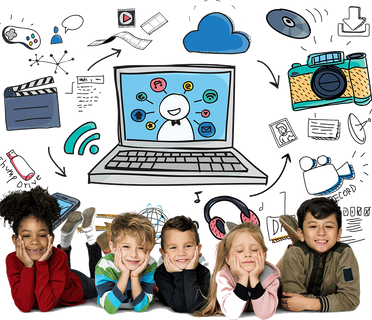 The purpose of this implementation is to ensure 100% of SVUSD schools will be properly equipped for our students to have a technology enriched learning environment. All teachers will have the proper training and resources to effectively integrate appropriate technology (hardware/software/internet) in order for our young people to acquire the skills they need to be effective 21st Century citizens and workers. Our high school graduates will exhibit a range of functional and critical thinking skills related to information, media, and technology. They will use technology as a tool to research, organize, evaluate, and communicate information. They will use digital technologies, communication/networking tools, and social networks appropriately to access, manage, integrate, evaluate, and create information to successfully function in a knowledge economy.
Sierra Vista Unified School District is supplying all students with a Google Chromebook, which is the property of the Sierra Vista Unified School District. Students will be able to take their Chromebooks home this year due to COVID-19 and the various learning opportunities provided within Sierra Vista Unified School District. The Chromebook is to provide each student access to required educational materials and research capabilities to enhance the educational experience. The supplied device is an educational tool and is not intended for personal gaming, social networking, or other non-school related activities.
Instructional Technology Support
Instructional Technology Coordinator
Rose Martinez (520) 515-2710
Instructional Tech Inventory Specialist
Atina Hayes (520) 515-2751
Buena Chromebook Center Para
Michelle Yeagley (520) 515-5055
The Buena High School Chromebook Para coordinates inventory of the high school Chromebook supply, issues student Chromebooks, creates Buena student Google Accounts, offers support for basic user issues, and retains Chromebook records.
SVUSD Information Technology
Each SVUSD school has an IT support technician who supports the functionality/connectivity of the Chromebook, troubleshoots basic Chromebook issues, and repairs Chromebooks as needed.
Student/Parent Technology Resources
About
Securly is the SVUSD Cloud-Based student safety and device management system. Securly offers a parent account so parents can view their students' online use. Read more HERE.